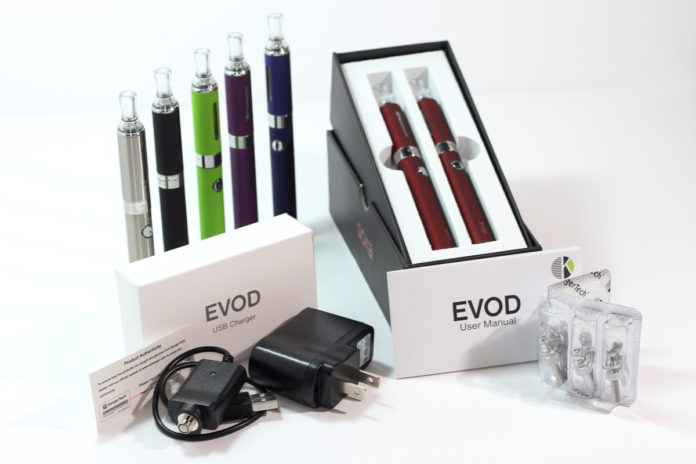 Are you new to vaping and overwhelmed with amount of choices? The Kangertech Evod Starter kit is perfect for anyone who is just starting to switch from tobacco to vaping. This setup is simple, convenient, and aesthetically pleasing. This kit includes everything you will need to get started vaping, aside from e-juice.
Kangertech is one of the pioneers in the vape industry. They are admired for their product quality, and this starter kit is no exception. Not only is this vaporizer functional it looks amazing as well. It is flawlessly coated with a matte finish reducing smudges and fingerprints. The kit is available in six different colors allowing you to personalize your vaping experience.
Features:
Press the button on the battery quickly 5 times to turn on/off
Button LED light color: white
Output voltage: 3.7V
3 Airholes
Bottom coil changeable (BCC)
The bottom pin (where it screws into battery/mod) is NOT spring loaded
USB charging cable: (Input: DC 5V; Output: DC 4.2V/420mA)
Power adapter: (Input: AC 100-240V 50/60HZ 0.2A Max; Output: 5V/0.5A)
650 mAh Built-in Rechargeable Battery
Size: L-137mm x D 15mm
Shipping weight: 0.3 Kg
Warranty: 6 Months
This Kit Includes:
2 x EVOD eGo Batteries with 2.5ohm coils installed
1 x 5pack of 2.5ohm replacement coils
2 x EVOD Clearomizer Tanks
1 x AC Power Adapter
1 x USB Charging Cable
1 x User Manual
---
Review
If you cant already tell we love this product. This kit is very good quality and should last you a very long time. It is very sturdy and built well. Other then E-liquid it has everything you need. If you aren't tech savvy, and prefer basic and reliable, the KangerTech Evod starter kit is for you. It is very discrete and fits in your pocket easily. This makes it perfect for anyone on the go. It does not waste your E-juice by creating huge vapor clouds like other mods. The draw is very smooth and satisfying and it should hit consistently throughout the cycle of the battery. I have used this as my daily vape setup for about two weeks and there hasn't been any problems. I purchased this kit from the Kangertech store for $30. It shipped very quickly and this is a great price for what you get.
The only issue I have is the battery drains fairly quickly because I have been using it so often. This is where the second battery comes in handy.  It is a starter kit however, so once you feel more comfortable with vaping it is probably better to go and explore other options.
---
Conclusion
This kit is an excellent bang for your buck. It is reliable, and very user friendly. This is one of the best deals for a beginner vapor and I am extremely happy with this purchase. It is easy to use, easy to clean, easy to maintain. Hits harder than you would expect an Evod to hit. If you are thinking about buying a pen and want a high quality product, this is the one for you.