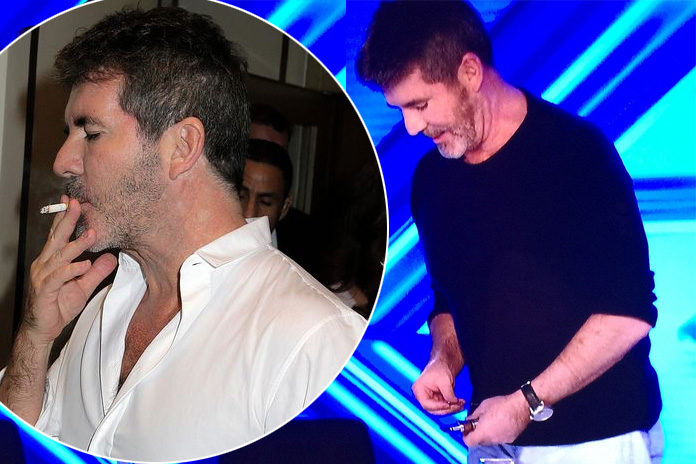 Simon Cowell has just joined the millions of people who are switching from cigarettes to vaping. The 56 year old media mogul, and judge on shows such as America's Got Talent, the X factor, and of course American Idol has taken up vaping for the sake of his two year old son Eric.
Simon has been a smoker all his life and fatherhood has given him the incentive to quite his 80 a day smoking habit with the help of vaping. He says he never smokes around his son Eric and is trying to cut back on the amount of cigarettes he smokes daily.
 My driver was on 40-a-day and he has cut out smoking completely. I'm on 80-a-day now. It's a step in the right direction. I don't smoke in front of Eric for obvious reasons. – Simon Cowell 
Cowell who is rarely pictured without a cigarette or a white t-shirt on is has officially joined the vape life. Like many other celebrities who vape, Cowell has made vaping a lot cooler in the public eye. The man who gave the world One Direction is pictured holding an e-cigarette during the filming for the show the X factor.
     He says that he enjoys vaping and that it is helping him break his habit. Hopefully he can eventually make a complete switch from cigarettes to vaping.
The Vape has been successful. It's a good one, it tastes nice and sweet. I have smoked for a long, long time and sometimes it is just habit. But these things do help. It is quite sexy, it is big and chunky. – Simon Cowell
we hope that his son Eric appreciates what his father is doing for the vape world. People who idolize these celebrities copy every aspect of their lives. Every time a celebrity is pictured vaping more and more impressionable people follow in their footsteps and make the switch to vaping. In my eyes this is a huge success for vapors everywhere.