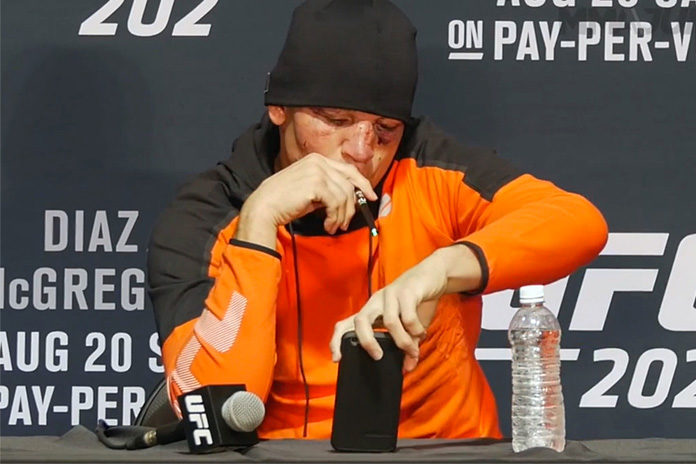 Nate Diaz might have just got himself in some trouble with the USADA.
Diaz is an American MMA fighter currently competing in the Ultimate Fighting Championship (UFC). Diaz might be facing a UFC anti-Doping policy violation for vaping cannabis at a UFC post fight press conference in Las Vegas.  As you can see in the video Diaz is vaping while giving the interview and he says it is CDB, or cannabidiol oil.
This interview came after Diaz lost to Connor McGregor by majority decision at UFC 202. Diaz's face looks pretty banged up, and he is probably using the CBD to dull the pain after his loss. "It helps with the healing process and inflammation, stuff like that. So you want to get these for before and after the fights, training. It'll make your life a better place." Diaz told a reporter.
Cannibidiol (CBD) is probably the best know cannabinoid in the cannabis plant, along with THC. Even though these compounds come from the same plant they have totally different effects on the Human Body. THC is the compound in marijuana that gives the user a high or euphoric feeling. CBD on the other hand provides numerous health benefits, such as antioxidant, antiemetic, and properties. CBD has also been shown to slow the growth of cancerous cells. The chemical does not give the user the same high feeling as THC.
Cannibidiol is one of 113 active cannabinoids in cannabis. Cannabinoids are banned in competition by the World Anti-Doping Agency (WADA) code over a certain threshold and USADA uses WADA's prohibited substance list.
"I can confirm that USADA is aware of the situation and is currently gathering information in order to determine the next appropriate steps," said Ryan Madden a spokesperson for the USADA.
Cannabis is considered a "specific substance" by the UFC anti-doping policy. It is not a steroid but is still prohibited in certain cases, like in competition.  Diaz could face a suspension of up to one year, according to Article 10.2.2 for violating this policy.
The USADA suspended fighter Diego Brandao for nine months recently for testing positive for marijuana metabolites the night before a fight. Varying from case to case, the USADA can give cannabis users anywhere from a public warning sanction to a one-year suspension.
In order to be considered positive for Cannabis a drug test must have more than 150 ng/ml of marijuana metabolites.  In this case Diaz was tested before he got to the press conference but his fight-night drug tests have not returned yet, so no one knows if he tested positive or not for cannabis.
The USADA could consider him saying he was vaping CBD as admitted use, which has the same punishment as a positive test.
Diaz has never failed a drug test in his MMA career. His brother Nick Diaz has three marijuana offenses in Nevada, including an 18-month suspension and $100,000 fine he was hit with last year. Nick Diaz is still currently suspended because he still owes $75,000 of that fine.
CBD has been used to treat a number of conditions and diseases such as epilepsy and schizophrenia. It has very few side effects and does not get the user high like THC. Cannabis in all forms should not be banned from any sort of athletic competition.
According to the USADA, cannabis is prohibited in-competition because of potential performance-enhancing elements, a potential health risk to athletes and it violates the spirit of the sport.
We will see whether Nate Diaz will have to suffer through another loss by getting suspended by the UFC after he already got destroyed by Conor McGregor at UFC 202. Let us know what you think.
Update – Nate Diaz Vaping CBD cleared by Nevada, but could still be an issue with the UFC