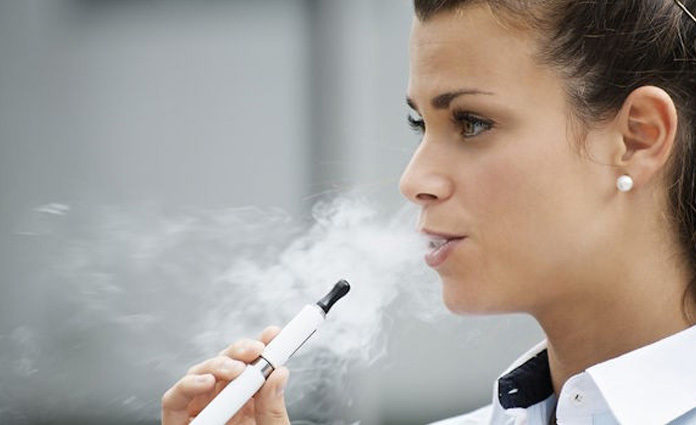 It just got a whole lot harder for people to vape.
The U.S Food and Drug administration (FDA) has implemented new vaping regulations that went into effect on August 8th, 2016 that could potentially harm the industry.
The new rules state that you must be at least 18 year or older to purchase E-cigarettes, Hookah tobacco and cigars. The FDA also has to approve any new E-cigarette related product that comes onto the market.  Vape shops will also no longer be able to give out free samples of E-juice to vapors who wish to try a flavor before they buy, reports USA Today on Sunday.
"The bad news is that August 8th of this year marks the beginning of a two-year countdown to FDA prohibition of 99.9%+ of vapor products on the market," American Vaping Association president Gregory Conley wrote in a press release. "If we do not succeed in changing the FDA's arbitrary predicate date of February 15, 2007, the vapor industry will shrink to almost nothing beginning August 8, 2018."
Previously, anyone could sample a flavor of E-juice for free but under the new regulations vape shops must now charge a fee for those samples.
Anyone who even looks under 27 years old will also need to show ID to get these products, and they can't be stocked in vending machines that people under 18 can access.
All newly regulated e-cigarette products such as e-juice will need a marketing order from the FDA unless the product was on the market before Feb. 15, 2007 when e-cigarettes where relatively new.  Manufactures are also obliged to report ingredients and harmful or potentially harmful chemicals in their products.
Effective today, Aug 8, it is illegal to sell any tobacco product to a minor. Read more on this milestone: https://t.co/bgyNm1VQqs

— FDA Tobacco (@FDATobacco) August 8, 2016
Manufactures can keep selling there products for up to two years while the new production application is being put together, and an additional year while the FDA checks it.  These extra charges will be a burden to sales and the majority of vape shops will not be able to afford these new regulations.
Gregory Conley, president of the American Vaping Association (AVA), estimates that between 8,000 and 12,000 small vaping businesses will be "crushed" by the FDA's new regulations.
Countdown to FDA near-prohibition of harm reducing vapor products starts tomorrow. Hope @DrugPolicyOrg, @TonyNewmanDPA & others fight for HR

— Gregory Conley (@GregTHR) August 7, 2016
The Smoke-Free Alternative Trade Association, the nations largest vapor trade organization, says the vaping industry in America accounts for $5.4 billions in annual sales.
The American Lung association suggest that these regulations "will help prevent young people from starting to use tobacco, and help consumers better understand the risks of using these products."
Many vape advocates and vape shop owners were not happy about these regulations.  Many smokers have turned to e-cigarettes to get there nicotine fix without the harmful effects of smoking traditional cigarettes.  Vaping is cheaper, it smells better than cigarette smoke, and it is much healthier.  Many people look at vaping and smoking cigarettes as picking the lesser of two evils.  Both have been shown to have negative side effects to your health but Vaping in our opinion is a much safer and healthier option.
We will keep you updated on these new regulations and how they will affect the industry. What's your stance on vaping? Lets us know in the Comments below.