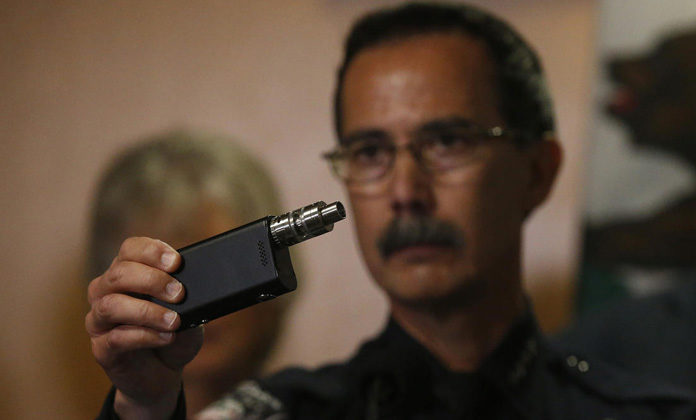 Police have released cell phone and surveillance video that shows the fatal shooting of an unarmed man who pointed a vaping device at officers. The video shows officer Richard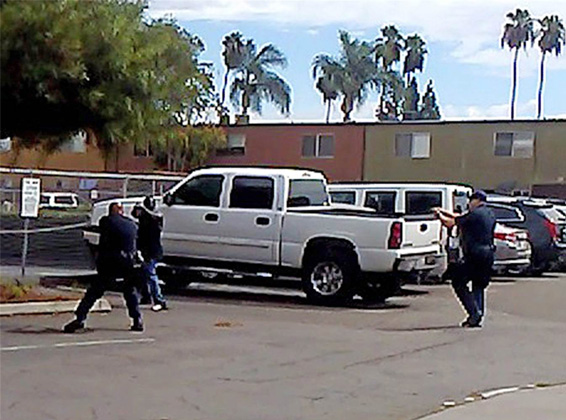 Gonsalves firing four shots at Alfred Olango, and another officer deploying a Taser. An employee of a local fast-food restaurant recorded video with her cell phone, as did a security camera at a drive through window.Review Android
A decision has not been made on whether criminal charges will be filled on one or both officers in the video. San Diego County District Attorney Bonnie Dumanis told reporters "Any criminal conduct being pursued will be some time much later." We are not showing the surveillance video here but it can be seen on the LA Times
Website. The video contains very graphic content that may offend some viewers. Discretion is strongly advised.
El Cajon, CA, Police shot and killed Alfred Okwere Olango in a suburb of San Diego on Sep 27, after he reached into his pocket , grabbed an object, and then got into a "shooting stance" and aimed it as if it were a hand gun.
It was later released that Olango 38, a Ugandan Refuge, was unarmed and the object he grabbed was a vaping device.
According to USA Today police shot and killed Olango after responding to a call of a man behaving erratically and walking in traffic.
The paper also reported that a women identifying herself as Olango's sister is quoted in a YouTube video saying her brother suffered from mental challenges and she called the police to help prevent her brother from walking in traffic.
"They shouldn't have called police — they should have called crisis communications," the woman says in the video sitting on a curb with her head in her hands.
"They just killed him," she said, weeping.
When the police arrived at the scene, they confronted Olango, and he pulled the vaping device from his clothing and held it like a weapon.
Police told Good Morning America that Olango "rapidly drew an object from his front pants pocket, placed both hands together and extended them rapidly toward the officer, taking up what appeared to be a shooting stance." One officer shot him with a taser, and another officer fired his handgun at Olango several times. Olango was pronounced dead at the hospital.
One man who said he witnessed the incident, and who is seen on a Twitter video posted by a San Diego Union-Tribune reporter, says Olango had his hands up when police shot him.
Michael Rodriguez says he saw man with hands up shot my El Cajon PD officers. He heard five shots fired. pic.twitter.com/zC68rXpAxc

— David Hernandez (@D4VIDHernandez) September 28, 2016
El Cajon police, however, said via Twitter that preliminary investigation indicates the man's hands were not up at the time of the shooting.
The investigation just started, but based on the video voluntarily provided by a witness, the subject did NOT have his hands up in the air

— El Cajon Police (@elcajonpolice) September 28, 2016
Police told press that the device he pulled on the police was a Pioneer4You vape mod and a SMOK TFV Mini atomizer.
protesters marched in the area where Olango was killed and the El Cajon Police department asked via Twitter, for the public to avoid the area.